NEBULUS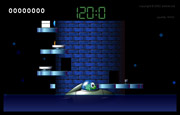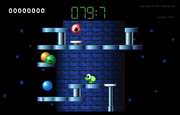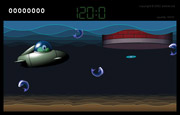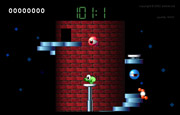 Nebulus, a.k.a. Tower Toppler, is a platform game featuring a unique perspective. Instead of the standard 2 dimensional, flat, world, the game takes place on the outside of a tower. When Pogo, our protagonist, walks to the left or right, the tower rotates accordingly keeping Pogo centered on screen.
The goal of the game is to reach the top of each tower. This to trigger the destruction of the tower. Once a tower is destroyed, Pogo travels by submarine to the next tower while collecting fish for bonuses.
STORY
The story behind the destruction varies depending on the version of the game. However the first, and best, version describes Pogo working for Destructo Inc a company in charge of demolition of the towers, just because they're are built without a licence..
NEBULUS FUTURE
Plans are being drawn up to create a new version of Nebulus. Until then the flash version is taken offline at request of the licence holder.
YEAR
2002