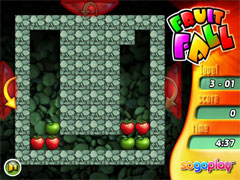 Fruit Fall is a puzzle game in which every level needs to be cleared of fruit. This can be accomplished by placing three or more pieces of the same fruit next to each other, making them disappear.
Sounds simple enough. However, the only way to move the pieces of fruit, is to rotate the whole field and let gravity do its work.
Two versions have been developed: a standalone, downloadable Deluxe Version and a browser based Web Version to promote the Deluxe Version.
WEB VERSION
the free, browser based web version features 1 gameplay mode and only a small selection of levels giving only a small taste of the full Deluxe game.
DELUXE VERSION
the deluxe version features 2 gameplay modes, 50 levels, hi-res full-screen graphics, extended number of music tracks, local and global highscores.
the deluxe version is available in English, Spanish and French.
the deluxe version can be tried for free.
DEVELOPED FOR AND WITH
Fruit Fall was developed for and with SogoPlay
Both versions are based on an earlier game of the same name developed by Tony Williams.
TECHNOLOGIES
Flash, Zinc
FRUIT FALL LINKS
| link | description |
| --- | --- |
| PLAY NOW | play the online demo of Fruit Fall |
| DOWNLOAD DELUXE | download Fruit Fall Deluxe (free to play for the 1st hour) |
| Sogoplay | owner and co-developer of Fruit Fall |