T2X SITE ART

T2X: SHADOWS OF THE METAL AGE
T2x: Shadows of the Metal Age is a massive expansion pack for Thief2.
Built by a talented group of avid fans of the Thief games, T2x expands the realm of Thief with a story spanning 13 new missions; boasting new characters, weapons, locations, sounds, graphics, speech and cut-scenes.
for more information on all aspects of the project, visit thief2x.com.
SITE ART
the website used to keep the thief community up to date with the latest developments, required some art:
icons to identify the different trades guild members contributed to
a cover image for the entrance page
a complex piece of art to navigate through the site, and to frame its contents
the visual concept of the site was conceived by Avalon.
all art was drawn using Photoshop5.5 in combination with a pressure sensitive tablet.
ICONS
the concept for the icons was to have single physical item for each of the trades
a victrola for the musicians, sound engineers and voice talent
a quill for the writers of the story
a paintbrush for the artists
a hammer for the level designers
the reason for introducing additional items to the simpler icons -the quill, paintbrush and hammer- was to keep them in balance with the visually complex victrola icon.
INTRO PAGE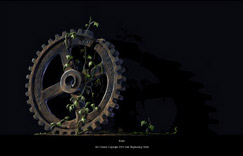 The concept behind the cover image is a near literal interpretation of the "Shadows of the Metal Age" title:
A large, cracked, rusty gear casting a large shadow.
to get a correct projection of the teeth of the gear 3d-modeling software was used, which is odd because if anything doesn't look 'right' about the image, it's the shape of the gear :/
All coloring, highlighting, the crack and the vines -the latter rather obviously- were drawn by hand.
MAIN PAGE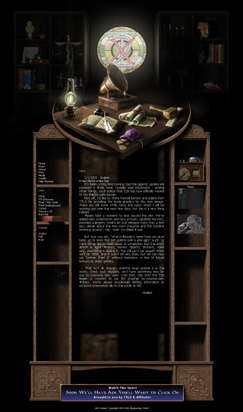 All elements of this page are drawn from scratch using photoshop and a pressure sensitive tablet.
The window design is based on a drawing by Randall Ernest, as is the background cupboard layout.
The scales in the background cupboard (left of the window) are based on an early concept drawing.
YEAR
2002