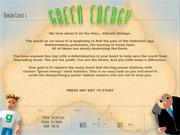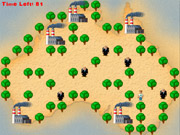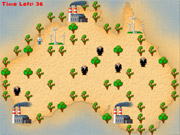 GREEN ENERGY ART
Green energy is a small game developed by Duncan Cooke. Especially aimed at kids, the main message of the game is to take care of the environment and make sure there's a future to look forward to.
GREEN ENERGY OBJECTIVE
The goal of the game is to replace all nasty fossil fuel power stations with cleaner "green energy" wind turbines before the time runs out and the land is left barren. This while avoiding the money-hungry power station owners that are out to stop you.
GREEN ENERGY ART
Except for the background, all art was drawn and animated in Flash and then converted to animated gifs.
Since the gif format does not support semi-transparent pixels, special care had to be taken to keep the semi-transparent anti-aliased edges of the Flash drawn art. The solution was to give the game a low contrast, single hue background. This allows the semi-transparent pixels to be drawn using a single solid background color while appearing to be semi-transparent, blending with the background.
YEAR
2007
DOWNLOAD
Green Energy can be downloaded from Duncan Cooke's website.
CREDITS