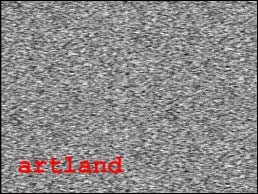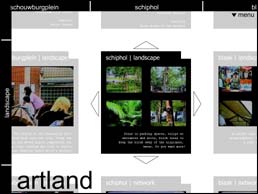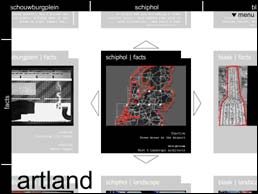 ARTLAND INFORMATION PAGES
ARTLAND VIDEO
The Artland Video is conceived and created by Ricky Rijkenberg and Birgitta Rottmann, and is a documentation of observations, influences and experience of urban space.
It shows several projects by West8 architects in a way that forces the viewer to experience the beauty, the every day use and the original inspirations of the design.
This combined with the excellent music score, which was specially composed for this project by Nidea, creates a truly magnificent experience of modern dutch, urban landscape architecture.
ARTLAND INTERACTIVE INFORMATION PAGES
Once the video was to be entered into the competition of the 2001 Graz Biennale for Media and Architecture, Ricky and Birgitta thought that the written appendix to the video could be in a more attention-grabbing, jury friendly, form; hence the development of the Artland interactive information page.
Artland was nominated in the 'web and cdrom projects' category.
The project consists of a rather large (1.7MB) Flash movie that displays a portion of a grid of textpanes.
Each textpane represents a theme of information for a specific design. It has either a low-framerate movie of outtakes of the video, or a slideshow of images.
Navigation through the grid is done either by hand or automically.
A small excerpt of the original score is looped in the background.
LINKS
| link | description |
| --- | --- |
| ARTLAND INFO PAGES | view the ArtLand interactive information pages |
| ARTIMAGE | graz biennale for media and architecture. |